Farewell evening at magic Locanda di Baccalamanza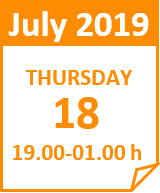 Have you ever spent an evening amongst good Sardinian food, relax, music, fun, nature, chat and friendship in the very heart of a vineyard? While getting closer, you will immediately feel that sense of "being elsewhere" as in a rainbow: the green and brown of the vineyards and of the hills all around you, the purple, red and yellow of the grapes ripening under the sun, the blue of the sky above you, the sun getting orange as the sunset approaches...
Locanda di Baccalamanza is one of those places that you can only dream of before being there and that you will keep on telling about to your friends and colleagues once back home. It is a restaurant with swimming pool situated in a vineyard in Capoterra, only 20 minutes away form the city centre of Cagliari that you can still see in the distance behind the flat glittering sea.
From Baccalamanza, the sight is stunning and the experience unique: you will be welcomed by a rich cocktail that you can enjoy while visiting the Locanda, walking around the courtyard, or simply standing in front of the profile of the Sardinian hills getting darker and darker as the sun goes down.
After the sunset, dinner will be served at the tables dressed up around the swimming pool with background music. The menu offers typical local homemade dishes, including three starters, two kinds of pasta, a main meal and unlimited water and wine, while beer and other beverages are upon request.
To end sweetly the dinner, guests will move to the dessert area, where they can enjoy local home-made pastries, spumante, coffee and typical Sardinian spirits (mirto, limoncello, grappa) while the party starts on the dancing floor and in the swimming pool, with a real DJ and professional barmen until 1 a.m. Those of you who prefer a quiter place can sit and chat, relax or post the amazing pictures you will have taken during the night.
Several busses will take you back to Cagliari every 30 minutes starting from 23.30 h.